If you are looking for a new forklift, Hangcha is a great option for many reasons. When you decide to purchase a new Hangcha forklift, not only will you be getting a high-quality lift truck at a great price, but you probably won't have to wait to get it. That's because, at any one time, Hangcha has more than 500 forklifts in stock in Canada. That's more than any other forklift manufacturer by a long shot.
In addition, you will get the best price and one of the longest warranties in the business! To help you choose the best forklift for your needs, we've compiled a list of some of the top Hangcha forklift models. Click on each one to find out more about their great features.
If you would like to learn more about Hangcha forklifts or are ready to make a purchase, contact us.
New Hangcha Forklift Models
1. 3-Wheel Electric Lithium-ion Forklift 3,200-4,000lbs
Hangcha's 3-Wheel Electric Lithium-ion Forklift features:
Dual front AC driving motors
Panoramic rearview mirror
Joystick or Lever-style Hydraulic Controls
Tight turning radius
Fast Charging and 10 year Li-Ion Battery warranty!
It's also equipped with dual, separate drive motors that increase performance and helps the forklift turn in the tightest possible circle for better maneuverability.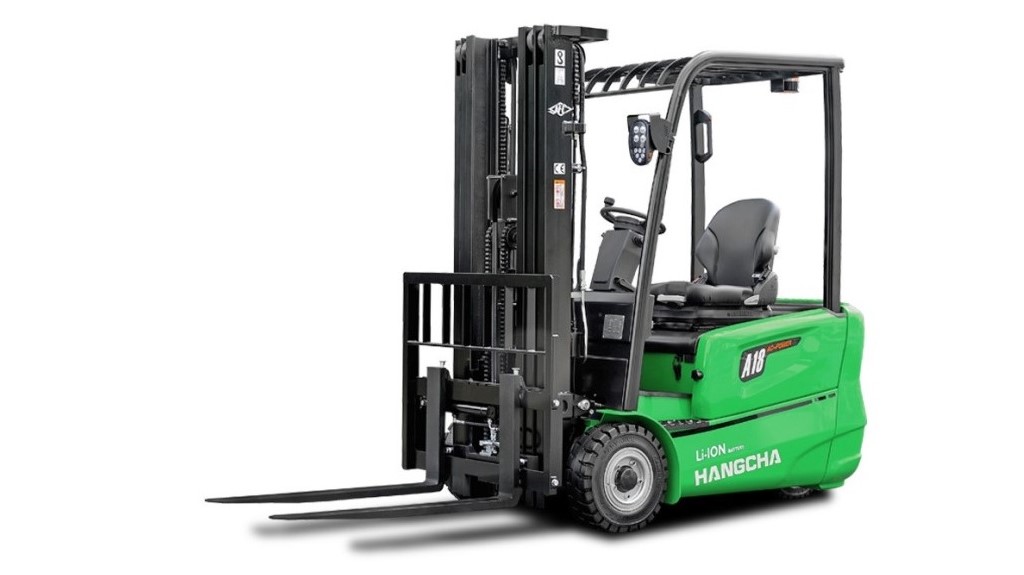 2. 3-Wheel Electric Lithium-ion Stand-Up Counterbalanced Forklift 3,000-5,000lbs
This new Hangcha forklift is a 3-wheel, stand-up model that features:
Hydraulic cushioning feature for smooth load handling
Intuitive control handle centrally positioned for easy access
Maximum operator comfort while travelling forward or backward in a side stance position with back and elbow support
If you have narrow aisles and high lift heights in your facility, then this 3-wheel electric lithium-ion stand-up forklift is a great option.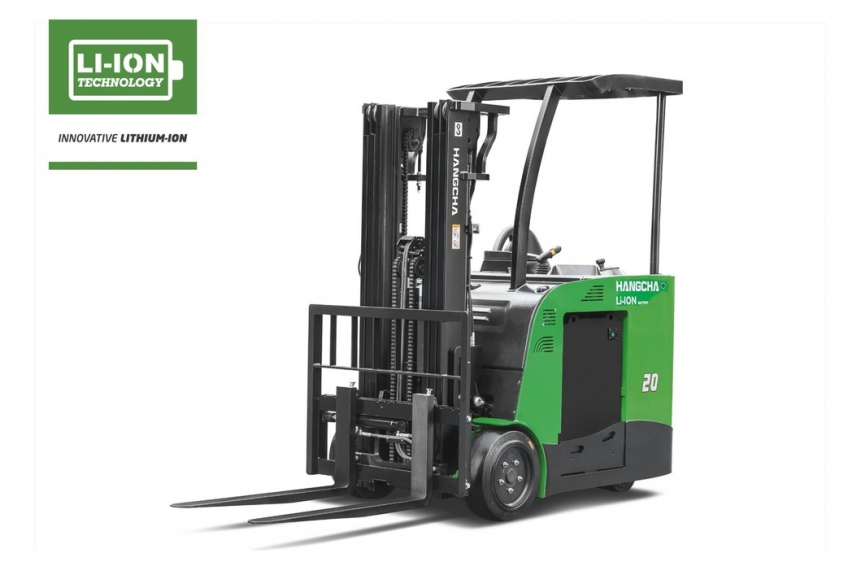 3. 4-Wheel Pneumatic Tire Forklift 4,000-7,000lbs
This 4-Wheel Pneumatic Tire Forklift features:
Large open steel roof for better visibility
Fully closed operation plate space, tilting cylinder and flat bottom plate for better comfort and safety
Side roll out the battery that you can quickly and safely remove
It also has a multi-function instrument with a coloured screen and a clear interface that is very easy to read.
4. Electric Lithium-ion Pneumatic Tire Forklift 8,000-11,000lbs
Here is another new Hangcha forklift with incredible features including:
Floating suspension system & MOSFET controller for automatic deceleration while turning
IPX4 water resistance rating so it's suitable for outdoor operation
Hood with a self-locking gas strut that can be opened at a large angle for easier maintenance
It is a stable, high-power, reliable, and maintenance-free alternative to traditional internal combustion forklifts.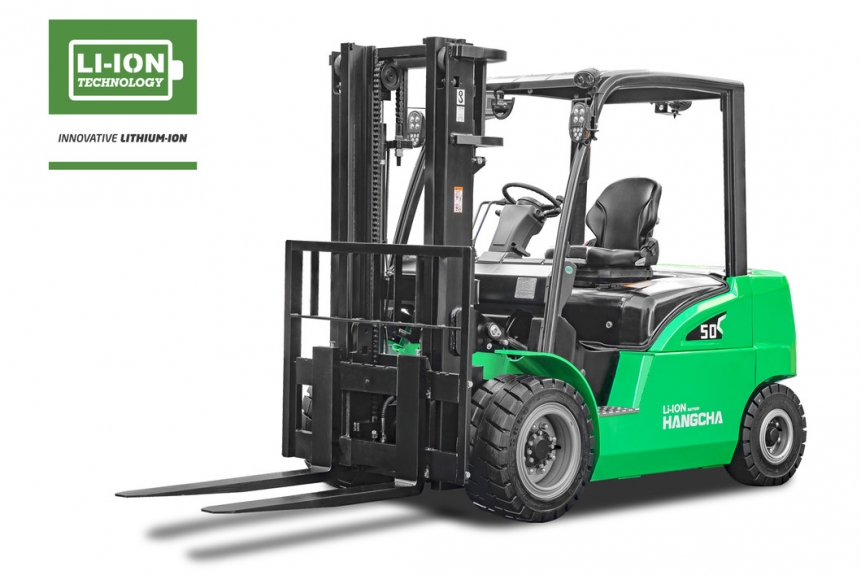 5. Medium-Level Stock Picker 1,000lbs
Hangcha's medium-level Lithium-ion stock picker features:
Tilt sensor that prevents it from tipping on excessive slopes for greater safety
Large foldable trays in the front and the rear
Rear load tray that can be folded when working in tight spaces
Guardrails with detection switches to prevent you from working until they are put down
It's only 800mm wide so it's ideal for narrow aisle applications.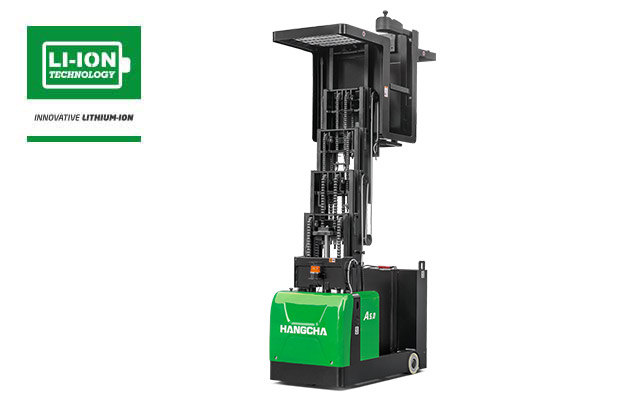 6. Electric Lithium-ion Light-Duty Walkie Pallet Jack 3,000lbs
Hangcha's Electric Lithium-ion Light-Duty Walkie Pallet Jack features:
Easy-to-remove battery
Built-in charger for convenient charging
Upright tiller running function so you can easily work in confined spaces like containers
Compact control head that lets you complete all operational inputs with one hand
In addition, its key switch, emergency cut-off switch, and battery meter are all easily accessible.
7. Heavy-Duty Walkie Pallet Jack 4,500-5,000lbs
Here is another new Hangcha forklift pallet jack. It features:
Simple tiller designed to operate all functions easily – even with one hand
Punch-formed forks to provide more strength
Tip guide to give you a more efficient operation
Battery compartment that can hold a 12-85-5 industrial battery in its 7.8-inch compartment
It will also give you greater clearance over docks, lift gates, and curbs which means less wear and tear on the carriage and components.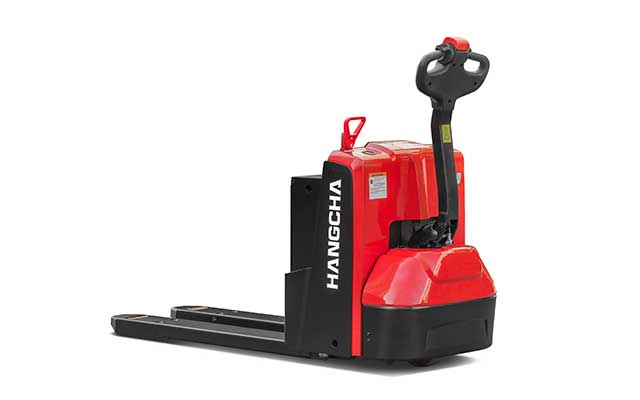 8. Electric Lithium-ion Center Control Rider Pallet Jack 6,000-8000lbs
This rider pallet jack has many great features including:
Battery side rollout and one-hand tiller operation
Regenerative braking that prevents the pallet truck from sliding down ramps
Brushless AC drive motor that's maintenance-free to significantly reduce your operating costs
You can even use the optional, auxiliary footboard for high-position picking.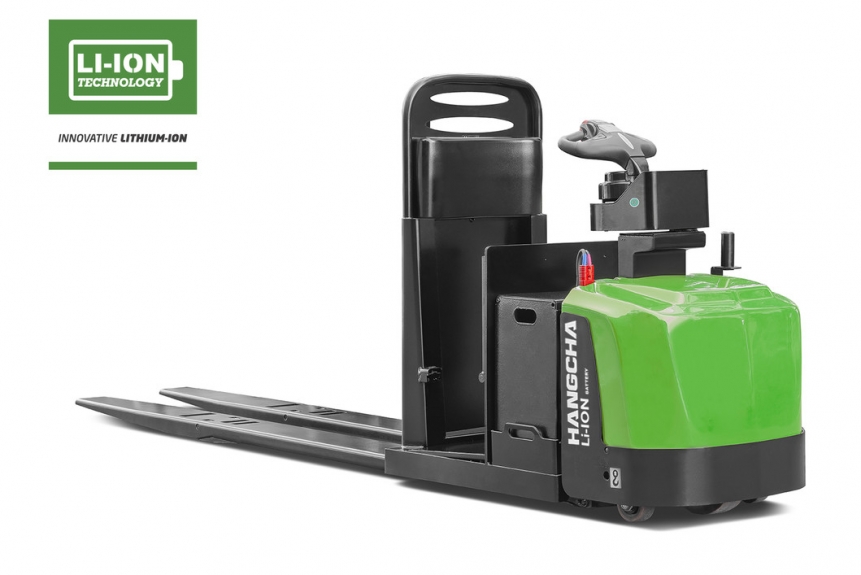 Ri-Go Lift: The New Hangcha Forklift Dealer You Can Trust

Since 1977, Ri-Go Lift Truck has been serving our customers in Ontario and Quebec with everything they need for material handling. We are committed to providing you with quality service and a high level of customer satisfaction.
We are your authorized dealer for the following top brands:
We are also proud to offer you the full lineup of Hangcha forklifts!
In addition to our authorized distributorships, we can also provide you with:
No matter what your material handling needs are, we can help. Contact us today to let us know how we can be of service.
What Our Customers Are Saying…
"Over 20 years doing business with Ri-go, in maintaining and renting us industrial power equipment. A big business with a real family way of treating the customers. They are experts in the industries they are involved in, and have been an important supplier for me for years. Moving forklifts, installing battery hoists, repairs, etc. If it's something they don't normally do, they make the effort to find us someone who can. Very very happy with everyone at Ri-Go."

-Paul Heggie