Hangcha electric pallet jacks are built to last and priced to sell. Click on the following sections to learn more about their great benefits and versatility.
If you are looking for the best selection of Hangcha forklifts including electric pallet jacks, contact us.
Hangcha Electric Pallet Jacks
1. Hangcha Electric Pallet Jacks vs Manual Pallet Jacks

Electric pallet jacks are much easier to use than manual ones.
In comparison to a manual pallet jack, which requires physical effort to operate, an electric pallet jack is powered by electricity. Here are some of the many advantages that an electric pallet jack has over a manual one.
Easier and More Efficient to Use:
One of the primary advantages of using Hangcha electric pallet jacks is that they are easier and more efficient to use. Unlike manual pallet jacks, which require the operator to physically push and pull the load, electric pallet jacks are motorized and can move heavy loads with minimal effort. This makes electric pallet jacks much more ergonomically beneficial for your operators.
Not only do electric pallet jacks reduce physical strain on your operators, but they can also increase productivity because they allow for faster movement of goods throughout your warehouse.
In addition, if you need to use your pallet jack in a retail setting where there is carpet, an electric model will glide over the carpet effortlessly unlike a manual one which will require even more effort to move over this type of surface.
Able to Handle Heavier Loads:
Another advantage of Hangcha electric pallet jacks is their ability to handle heavier loads. Manual pallet jacks are typically limited in the amount of weight they can lift and move and require you to exert a significant amount of force to move heavier loads.
Electric pallet jacks, on the other hand, are equipped with powerful motors that can easily handle heavier loads, allowing for more efficient movement of goods.
Better Maneuverability:
Hangcha electric pallet jacks are easy to maneuver.
Electric pallet jacks also offer you greater maneuverability than their manual counterparts. They are designed to turn on a dime, making it easier for you to navigate through tight spaces and around obstacles.
This can be particularly useful in warehouses with narrow aisles or in other locations that have space constraints. Take a look at the above video to see how easy it is to operate a Hangcha electric pallet jack.
More Safety Features:
In addition, electric pallet jacks also offer greater safety features than manual pallet jacks. Many models come equipped with safety features such as automatically reducing travel speed when the forks are lifted to or past a certain height or if the pallet jack is turning a corner.
They may also be equipped with features such as anti-tip protection and automatic braking, further reducing the risk of accidents and injuries in the workplace.
They also can be equipped with an anti-sliding function that will stop the pallet jack from sliding when going up or down a steep grade.
More Durable:
Additionally, electric pallet jacks are often more durable than manual pallet jacks, meaning they require less frequent replacement and maintenance. This can save you money on repairs and help to reduce your environmental impact.
2. Where Can You Use Hangcha Electric Pallet Jacks?

Electric pallet jacks are a great asset to any warehouse operation.
Hangcha electric pallet jacks are incredibly versatile and can be used in a variety of settings to move heavy loads quickly and efficiently. Here are some of the common places and applications where electric pallet jacks can be used:
Warehouses:
One of the primary uses for electric pallet jacks is in warehouses and distribution centers. They can be used to do the following:
Move pallets of goods from one location to another
Load and unload trucks
Stack pallets in racking systems
A pallet jack is a great tool for any type of warehouse.
Retail stores:
Electric pallet jacks are also commonly used in retail settings, such as supermarkets and home improvement stores. They can be used to do the following:
Move pallets of goods from the back of the store to the sales floor
Restock shelves
Move products around the store
Pallet jacks are small enough to fit in retail settings where a full-sized forklift would be too large.
Manufacturing facilities:

Electric pallet jacks are great for loading and unloading trucks.
Hangcha electric pallet jacks are also useful in manufacturing facilities, where they can be used to perform many tasks such as:
Move raw materials and finished products from one location to another
Load and unload trucks
Move products through the assembly line
Be sure to choose a pallet jack that can handle the weight of the loads you need it to carry.
Hospitals:
Electric pallet jacks can also be found in hospitals and other healthcare settings. They can be used to move heavy medical equipment and supplies, as well as to transport patient beds and other equipment.
Outdoor environments:
While electric pallet jacks are primarily designed for indoor use, there are some models that can be used outdoors. These jacks are typically equipped with larger wheels and more durable frames to handle rough terrain. In addition, a lithium-ion powered electric pallet jack, like those manufactured by Hangcha, can handle the colder temperatures outside as opposed to most lead-acid battery pallet jacks.
3. Why Choose a Lithium-Ion Battery for Your Electric Pallet Jack?
Hangcha Lithium-Ion electric pallet jacks provide you with even more great benefits. These include:
Latest Battery Technology:
Hangcha uses square lithium iron phosphate batteries, which are the same type of batteries used in new electric vehicles.
Design:
Hangcha's Lithium-ion battery module has a sturdy and lightweight aluminum alloy frame. It is also designed to provide excellent heat dissipation.
Safe and Effective:

Lithium-ion batteries are safe and give you great benefits like faster charging speeds.
The charging efficiency of a Hangcha Lithium-ion battery is as high as 98% and the thermal runaway temperature is at 600 ℃ and above.
Adapts to Low Temperatures:
Hangcha Lithium-ion batteries come standard with an electrical heating feature that ensures normal operation in low temperatures.
Efficient:
The Lithium-ion battery lets you do opportunity charging so you can use your pallet jack continuously in multi-shift operations.
Long-Lasting:
The Hangcha Lithium-ion battery will last for 4,000 charging cycles with capacity retention greater than 80%.
Maintenance-Free:
Lithium-ion batteries do not require manual maintenance such as watering.
Green and clean:
The batteries are pollution-free, release zero emissions, and are recyclable.
4. Hangcha Electric Pallet Jacks: Models
Hangcha electric pallet jacks come in a wide range of models and lifting capacities. Here are just a few of the great options Hangcha has to offer. For a complete list of models, click here.
Electric Lithium-ion Light Duty Walkie Pallet Jack 3,000lbs
This Mini Walkie Pallet Jack is incredibly reliable and safe and is perfect for loading, unloading, and handling palletized goods in warehouses, supermarkets, and workshops.
It's designed with an upright tiller running function so you can easily work in confined spaces like containers and has a built-in charger for convenient charging.
Electric Lithium-ion Walkie Pallet Jack 5,000lbs
Hangcha's Electric Lithium-ion Walkie Pallet Jack offers you both high performance and low maintenance costs.
Its lithium battery pack comes with up to a 5-year or 10,000-hour warranty and an Integrated Battery Management System (BMS) that continually monitors energy management and ensures reliable operation.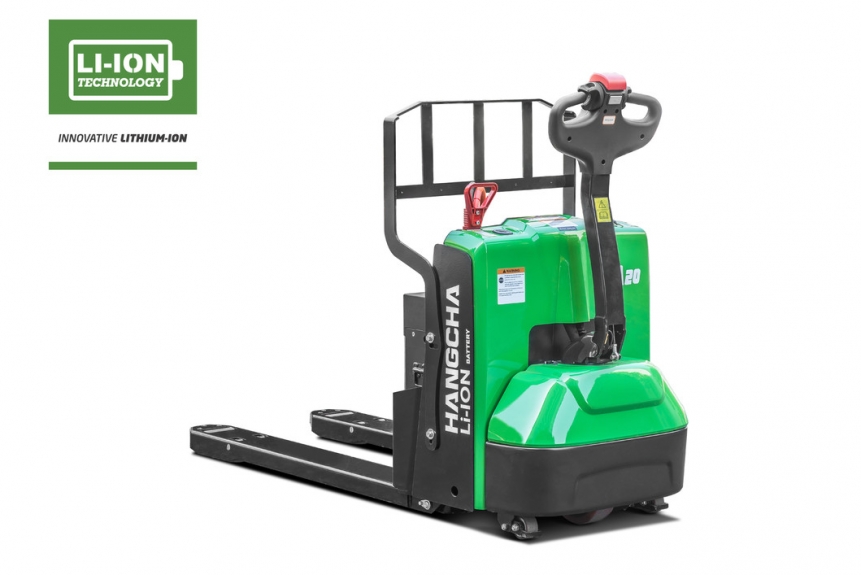 Electric Lithium-ion End Control Rider Pallet Jack 6,000-8,000lbs
This End Control Rider Pallet Truck is easy to operate and inexpensive to maintain.
It is designed with a roomy, low-step platform & optional cushioned knee pads that allow you to adjust your stance throughout your shift. It also has a load backrest that is secured with high-strength bolts to protect your operator.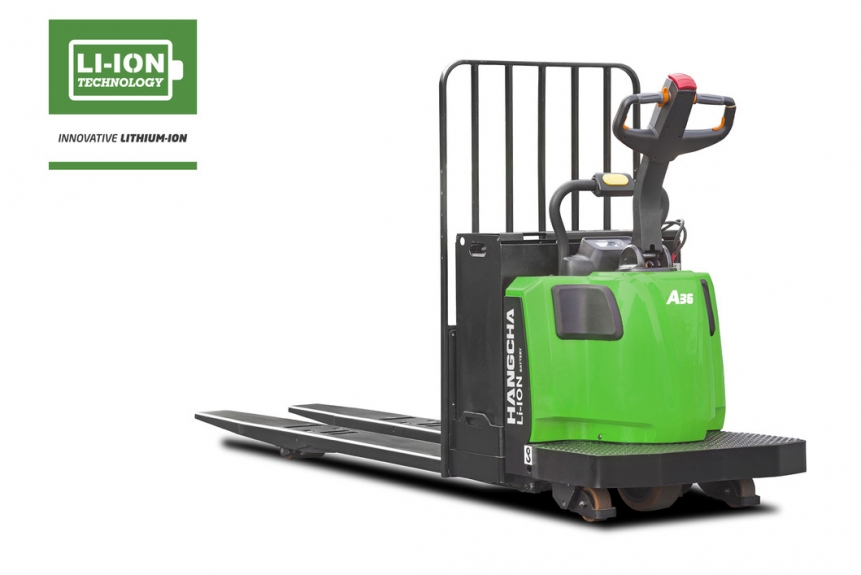 Why Choose Ri-Go Lift for Your Hangcha Electric Pallet Jacks?

Since 1977, Ri-Go Lift Truck has been serving our customers in Ontario and Quebec with everything they need for material handling. We are committed to providing you with quality service and a high level of customer satisfaction.
We are your authorized dealer for the following top brands:
We are also proud to offer you the full lineup of Hangcha forklifts!
In addition to our authorized distributorships, we can also provide you with:
No matter what your material handling needs are, we can help. Contact us today to let us know how we can be of service.
What Our Customers Are Saying…
"Great team, friendly and responsive. Looking forward to a long and prosperous business relationship."

– Frank Gregoire