Hangcha forklifts match or even exceed the quality of other forklift brands, but they are priced significantly lower. Click on the following sections to learn more about Hangcha and some of their more popular models.
If you are looking for a new forklift, contact us. We'll help you select the perfect forklift for your needs.
Hangcha Forklifts
1. About Hangcha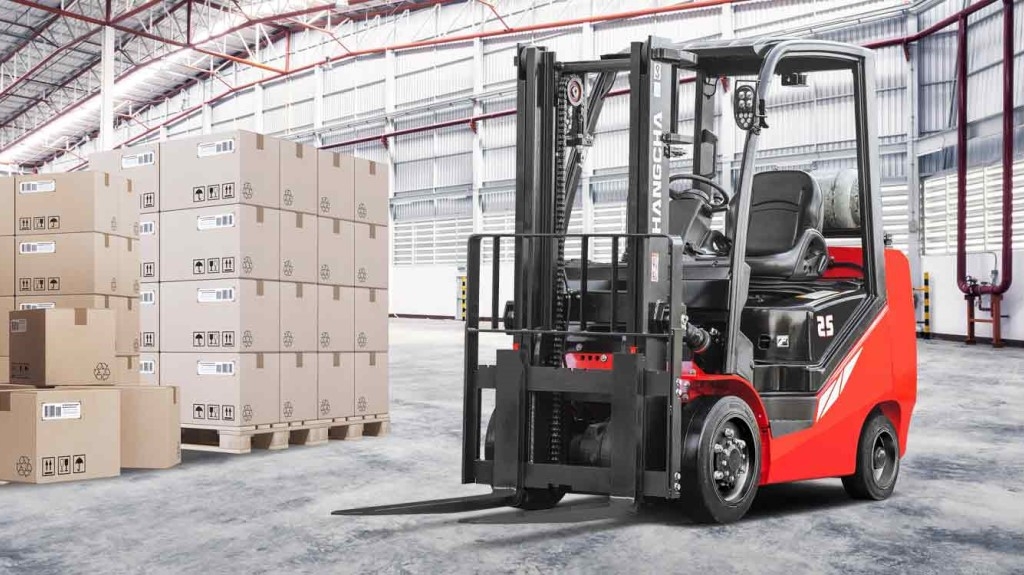 Hangcha Group Co., Ltd. has been manufacturing Hangcha forklifts for more than 48 years.
Hangcha forklifts are manufactured by the Hangcha Group Co., Ltd. This company is a global leading, full-line forklift developer, manufacturer, and supplier. They specialize in engineering and manufacturing high-quality forklifts and warehouse equipment.
Hangcha was established in 1956 and they first began making forklifts over 48 years ago in 1974. By 1983, they had produced 10,000 forklift units. They are the leading forklift manufacturer in China and have been the country's largest forklift exporter for 12 consecutive years.
Hangcha came to Canada in 2019 and they also have other international dealer networks in the following locations:
America
Southeast Asia
Europe
The Netherlands
Hangcha Canada's head office is located in Vaudreuil-Dorion, QC.
2. Electric Lithium-ion Walkie Pallet Jack 5,000lbs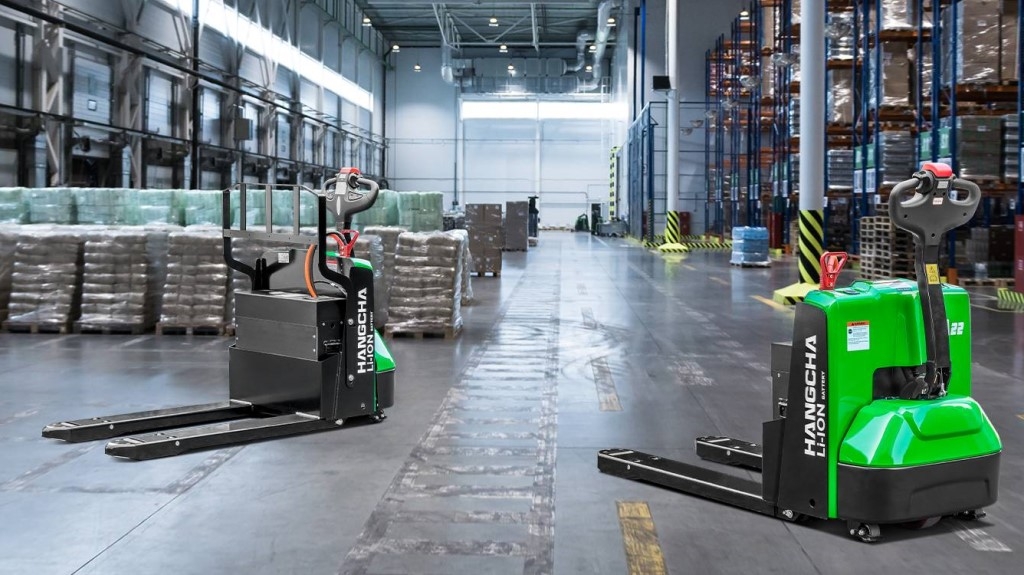 This Hangcha walkie pallet jack gives you both high performance and low maintenance costs
Hangcha's electric lithium-ion walkie pallet jack has a capacity of 5,000lbs and is the perfect choice for:
Warehouses
Supermarkets
Retail Settings
Workshops
It's safe and easy to operate and it offers you both high performance and low maintenance costs. It's equipped with a load backrest, PIN code access, rubber drive tire, and caster wheels.
It also features:
Built-in charger and maintenance-free lithium-ion battery
Ergonomically-designed tiller head that is easy to operate with one hand
Strong, punch-formed forks with tip guides for greater efficiency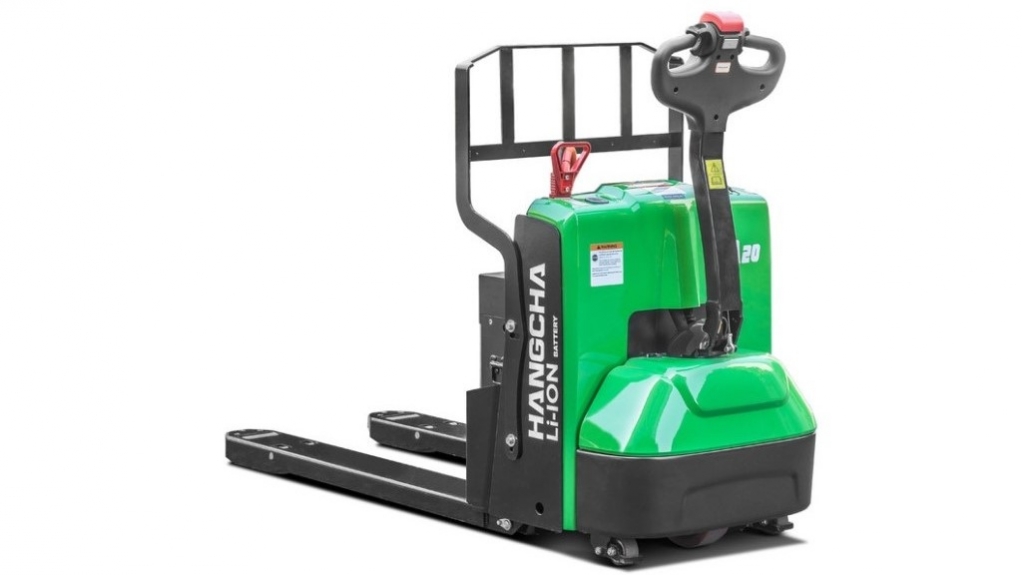 This model is specially designed to operate over docks, lift gates, and curbs to prevent wear and tear on the carriage and components.
3. Three-Wheel Electric Lithium-ion Forklift 3,200-4,000lbs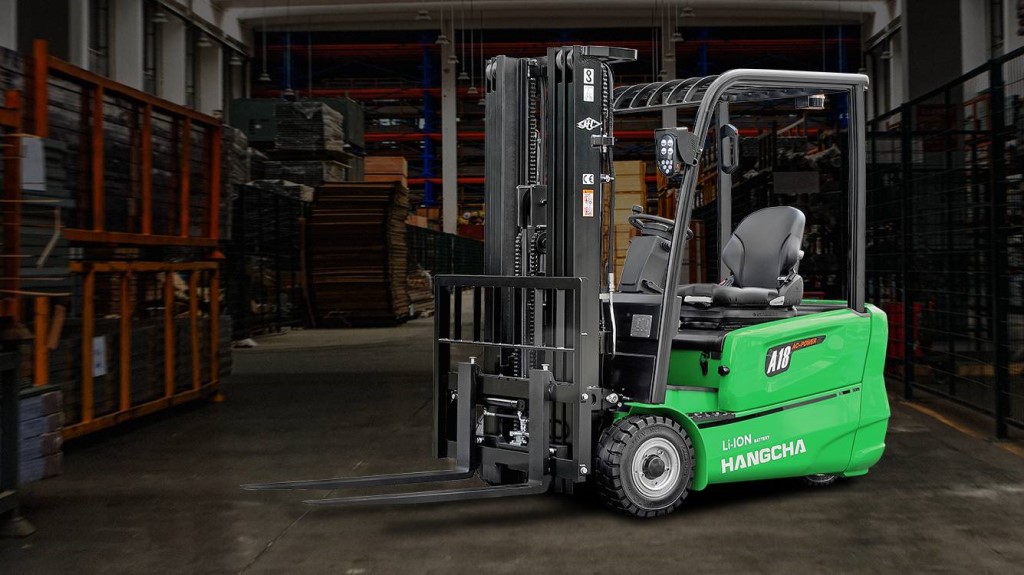 Hangcha forklifts that are lithium-powered take advantage of both rapid and opportunity charging
Hangcha's 3-wheel electric lithium-ion forklift is equipped with dual, separate driving motors that allow you to move your front wheels forward or backward, independently. Because it is lithium-powered, it gives you both rapid and opportunity charging, so it is continuously available for operation. It can be charged during breaks eliminating the need to stop for hours to recharge.
This forklift is incredibly streamlined with a compact shape so it is perfectly designed to work well in narrow applications.
It also features:
Dual front AC driving motors
Titan charger 48V/200Ah
Tight turning radius
Adjustable levers for easy battery access
Panoramic rearview mirror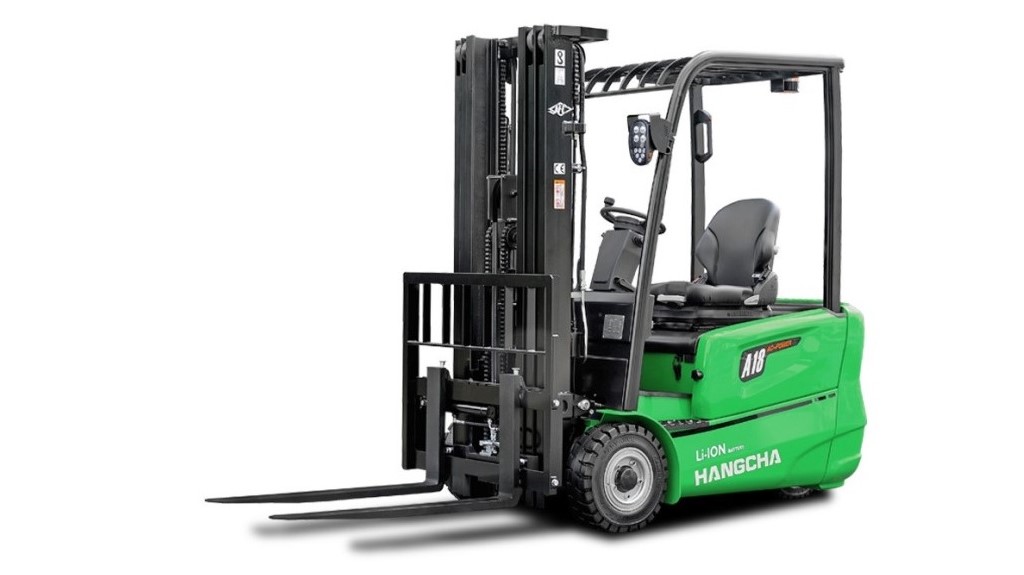 This Hangcha forklift also comes standard with a high-power pump motor and a low-noise gear pump which makes it extremely efficient because the hydraulics can work faster.
4. Electric Lithium-ion Cushion Tire Forklift 4,000-6,500lbs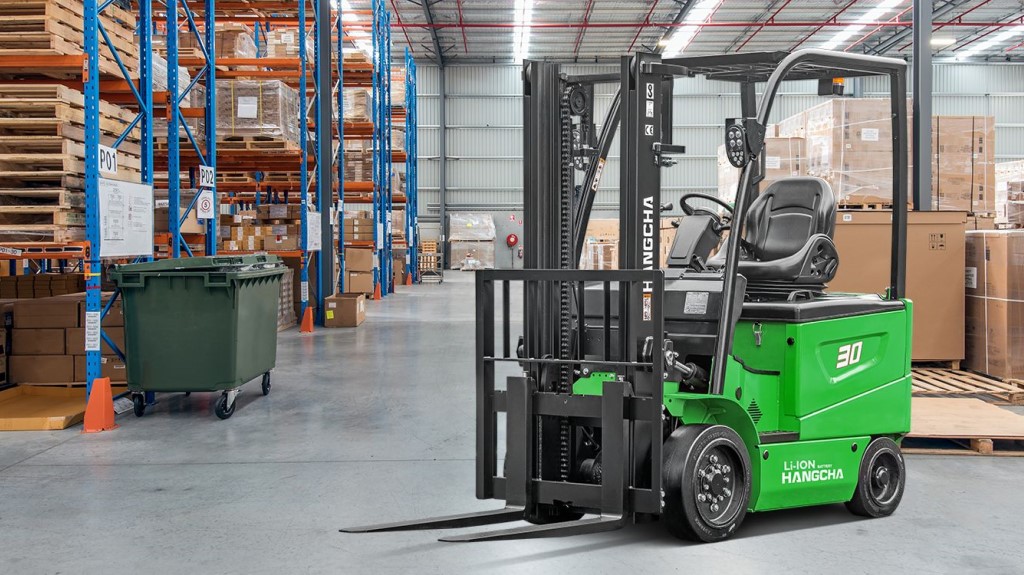 This is one of the Hangcha forklifts with an incredibly small turning radius so it's great for narrow applications.
Here is another one of the great Hangcha forklifts that are powered by a maintenance-free, lithium-ion battery. This cushion tire forklift has a compact design, but it still gives you a lifting capacity of up to 6,500lbs.
This forklift has an incredibly small turning radius which makes it perfect to use in narrow applications. It also has excellent visibility to ensure your operators are safe.
It also features:
Waterproof and dustproof dual doors for easy access to the hydraulic pump motor
Advanced LCD display: speed level, steer angle, travel direction, battery discharge indicator, hour meter, and working mode
Side battery removal assembly for easy removal and replacement
Optional Titan dual charging guns (48V/400Ah)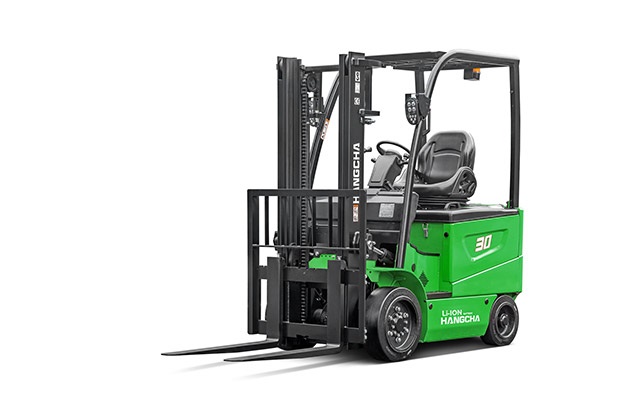 Hangcha's lithium-ion batteries use the same type of batteries as new electric vehicles. They can fully charge in 2 hours and can last up to 4,000 charging cycles. They are pollution-free, release zero emissions, and are even recyclable.
5. Electric Lithium-ion Pneumatic Tire Forklift 8,000-10,000lbs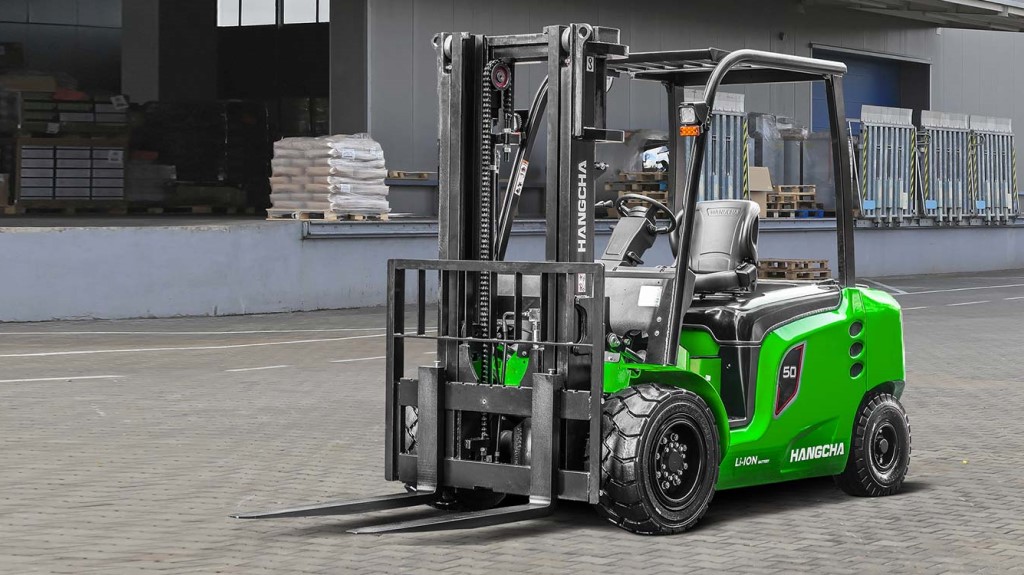 This electric lithium-ion pneumatic forklift is a great alternative to IC forklifts.
Here is another one of the Hangcha forklifts that feature their lithium-ion technology. This pneumatic forklift is a stable, high-power, reliable, and maintenance-free alternative to the traditional core internal combustion forklifts. Its newly designed chassis has a low center of gravity that will help you feel incredibly stable when you are turning.
It also features:
Fully-sealed hood and side plates to protect motors & electrical components
Hood with a self-locking gas strut that can be opened at a large angle for easier maintenance
IPX4 water resistance rating so it's suitable for outdoor operation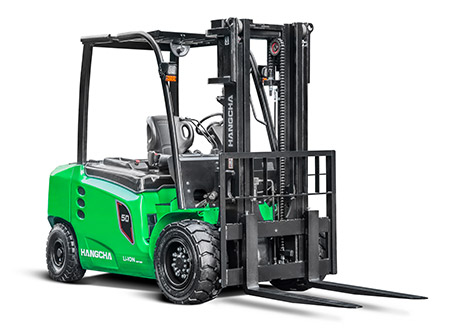 This great model is designed with a floating suspension system & MOSFET controller for automatic deceleration while turning. It also comes with the option to get dual charging ports and a Titan dual charging gun.
6. Electric Lithium-ion Industrial Walkie Reach Stacker 3,000lbs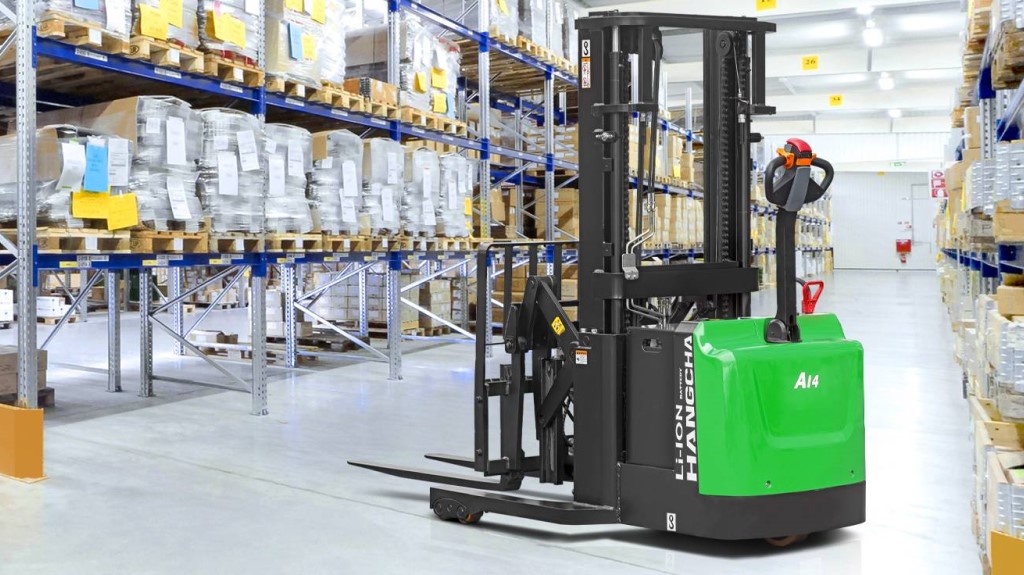 This model can act both as a counterbalanced stacker and a straddle stacker.
Thanks to its scissor fork extension system, Hangcha's electric lithium-ion industrial walkie reach stacker can act both as a counterbalanced stacker and a straddle stacker.
When its forks are extended, it acts as a counterbalanced stacker. This allows it to handle non-standard pallets, enclosed pallets, and enclosed shelves easily.
When its forks are retracted, the reach stacker also acts as a straddle stacker so you can easily use it in narrow passages. This makes it perfect for warehouses, supermarkets, and workshops.
It also features:
Travel speed is automatically reduced when the forks are lifted past a specified height.
Rotary load wheel structure gives you better rolling ability and stability.
Forks' tilting function makes it easy to load and unload pallets.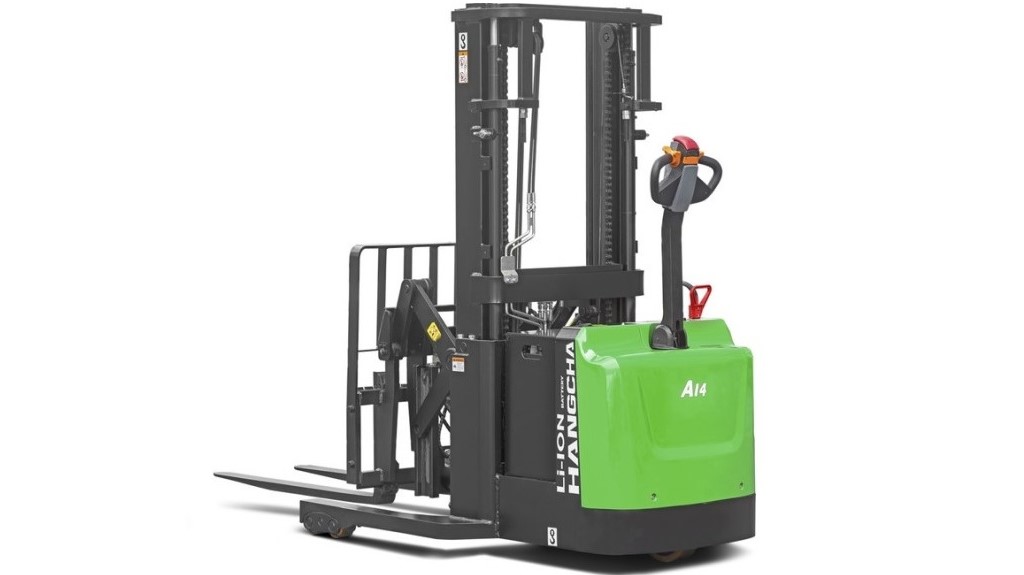 This amazing reach stacker also has a FREI multi-function tiller that does three different functions including:
Move forks forward / backward
Lift / lower forks
Tilt forks forward / backwards
It's also equipped with electric power steering, giving your operators incredible load-handling control and excellent maneuverability.
Why Choose Ri-Go Lift for Your Hangcha Forklifts

Since 1977, Ri-Go Lift Truck has been serving our customers in Ontario and Quebec with everything they need for material handling. We are committed to providing you with quality service and a high level of customer satisfaction.
We are your authorized dealer for the following top brands:
We are also proud to offer you the full lineup of Hangcha forklifts!
In addition to our authorized distributorships, we can also provide you with:
No matter what your material handling needs are, we can help. Contact us today to let us know how we can be of service.
What Our Customers Are Saying…
"Over 20 years doing business with Ri-go, in maintaining and renting us industrial power equipment. A big business with a real family way of treating the customers. They are experts in the industries they are involved in, and have been an important supplier for me for years. Moving forklifts, installing battery hoists, repairs, etc. If it's something they don't normally do, they make the effort to find us someone who can. Very very happy with everyone at Ri-Go."

– Paul Heggie