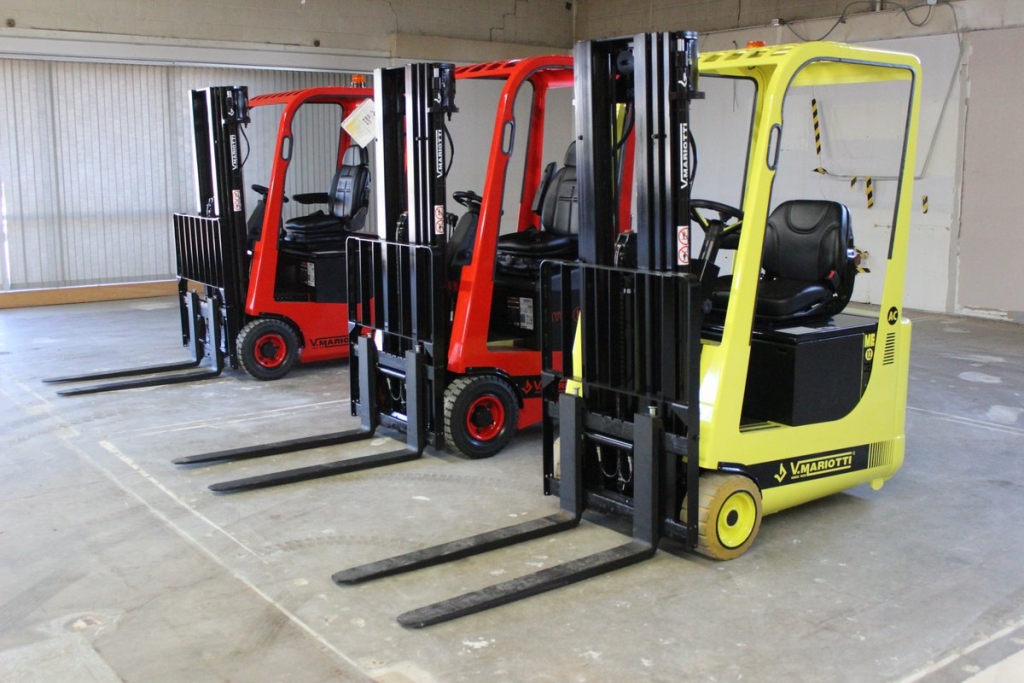 In material handling, forklifts are one of the most utilized and essential equipment. They are robust, efficient and can adapt to the needs of any business in warehousing, manufacturing, transportation and even grocery operations. That's why you've decided that your business needs a forklift for loading, unloading, and moving heavy objects safely and efficiently. Once you've gone to a forklift professional like Ri-Go Lift Truck, you'll be faced with the decision of whether to Purchase, Lease or Rent the forklift. At Ri-Go Lift, we offer all these options. Depending on your needs, we can help you decide which is best for you.
Deciding on which option is best for you comes down to the individual needs of your business. We've broken down the pros and cons of each option below:
Renting: (Long or Short Term)
Short Term Rentals allow you to use your forklifts for a limited time, from one day to a year. It offers maximum Flexibility if you are worried your needs may change or if your demands are uncertain. It is easy to off-rent the unit whenever you no longer need it with no penalty if your supplier starts shipping you larger or heavier loads – no problem! You can change the rental with no liability to a larger capacity forklift with one phone call. If demands change, you can call the unit off rent for some time to conserve capital and order it again when you need it. Best of all, all Maintenance (other than damages or repairs resulting from misuse/abuse) is covered in this cost! So, no surprises! Maximum Flexibility and a solution when you need it is what our Short-Term Rentals offer.
Long Term Rentals are equivalent to an Operating Lease with Maintenance included! Renting for more extended periods can provide you with lower monthly rates than buying and rates lower than Short Term Rentals. Having Maintenance included helps with budgeting, as you generally have one amount for your forklift per month for the duration of the long-term rental term. Long Term Rentals range from 3-6 years, depending on how heavy the operation uses the forklifts. Our rental experts can calculate your monthly cost and options quickly and easily. Call us or email us now! 416-213-7277 ext 242 or rentals@rigolift.com
Pros of renting
Flexibility during slow/busy periods: Renting a forklift is an economical and "easy" option when you only need your forklifts during peak periods or seasons. If your business ever experiences a decline in revenue or sales, renting gives you the freedom to remove its cost from your fleet with one phone call or email and no penalties.
Maintain and replace equipment easily and with fewer surprises: Your forklift supplier may have planned maintenance available, which is generally included in your rental contracts. Anytime your forklift is down due to normal wear and tear or for scheduled maintenance services, your supplier will send a technician for repairs at no added cost. If your forklift needs to be on hold for a few days for repair, your supplier may offer you a temporary replacement so you can avoid disruptions. What could be more convenient than that?
Get the newest and most current Equipment: Our Rental units are checked rigorously to ensure they are in tip-top condition, and older units are retired before they become unreliable. Often rentals will be the latest model forklifts with the latest technologies and safety options – keeping your operation and operators productive and safe. New capabilities, lift heights, and safety features can help your employees maximize efficiency.
Low upfront costs: Renting helps your business benefit from high-performance forklifts without incurring the high costs of buying them outright. If your business is new, you can benefit from the ease of scaling your business along the way with forklift and warehouse equipment rentals. Renting a forklift starts at $400 per month vs purchasing, which could be $40-60,000.
Predictable monthly spending with no or limited long-term commitments: A rental program provides consistent and steady monthly expenditures, making it easy for you to budget and plan. Having Maintenance included means one less worry for you. Let RIGOLIFT worry about your lift trucks so you can focus on your business. We will schedule services when needed and look after every aspect of the forklift. Let us look after that leaving you more time to work on what you do best – run your business! Your rental contract also allows you to return and swap your forklifts with a different one from your supplier's stock whenever the need arises.
Cons of Renting
The monthly cost of renting a forklift Short Term is typically higher than the monthly cost of buying or leasing/financing a forklift. This is a good option for the Short Term – if you need a forklift permanently – look at a Long-Term Rental or Lease/ Finance option.
Ensure you base your rental rate on accurate usage! Some rental suppliers specify the maximum allowable hours of use, which may lead to violating your contract and overtime charges.
Depending on your business's location and how often you call them on and off rental, renting your forklifts only when needed may incur substantial transportation costs.
Buying
Buying is a better option for companies looking to make long-term investments or large-scale companies with large-scale operations. It is typically the most expensive option because it requires a significant upfront payment. It gives you full ownership and the freedom to use it as you like at any time for its entire life cycle. Ri-Go Lift Truck offers customers the opportunity to buy brand new forklifts from the factory or our Stock Inventory, or you can look to buy a certified used, refurbished lift truck with significant cost-savings. Typically, a good used truck will cost approximately 60-70% of what a new equivalent unit cost. Both New and Used Trucks can be purchased outright, Financed or Leased. New Trucks can be sold with Full Maintenance or PM Maintenance Agreements to lower and balance your maintenance costs. Used trucks can also be sold with PM maintenance agreements if desired.
Pros of buying forklifts
Highest return on investment Although buying outright requires a large sum upfront, purchasing is typically lower in the long run than renting as long as you get the spec right and don't need to change the unit often. As an owner, you and your employees are free to use the forklift as you like without any obligations or restraints that rental contracts generally require.
Customizations: Ownership of your forklifts allows you to customize them with specific options and features that you need. Rentals can be more "vanilla" in the specification – so if you have very specific options you need on your lift truck purchasing, then leasing or financing may be your best route.
Tax deductions: Newly purchased forklifts can sometimes be eligible for tax deductions, unlike rentals. If this is important to you, review the tax laws of your region before making a purchase.
Cons of Buying (financing or leasing)
Higher initial upfront costs – unless you purchase with a Lease or Finance option.
Higher Risk – you better get the spec right! If you purchase something that is not correct or if something changes in your operation that makes this purchase no longer functional or safe….it may be more difficult and expensive to correct the mistake.
Maintenance is extra unless you arrange a Full or PM Maintenance program, most customers with a Purchased forklift are on a "time and materials" maintenance structure – meaning services could get missed, and costs could be volatile month to month.
Your model may become outdated or technologically obsolete, and you may not be able to return or sell it for what you hoped.
Things to consider when making a purchasing decision
If you're still not sure which option may be best, here are a few questions you can ask yourself to help you decide:
Do you have a budget for purchasing and ongoing maintenance?

Think about how much money you are prepared to spend upfront. If a considerable expense isn't feasible, consider the economical option of renting. You can also decide to keep renewing your rental agreement after each cycle. Also, consider if you can afford to take care of maintenance needs in-house or hire an external service provider. If you can afford to take care of maintenance needs yourself, you may consider purchasing a forklift for your business.

What type of forklift does your work require?

Regarding your work requirements, think about what type of forklifts you need and how hard it is to work. Would you need to get more than one type of forklift? If you need to work on short-term projects or multiple projects at a time with different requirements, renting may be a better option in terms of cost and accessibility to various forklifts. However, buying may be a better option if you need a forklift every workday and if your needs are consistent or require work in harsh conditions. Rental Companies will be less inclined to rent in harsh environments.

Are features and technology essential to you?

One of the benefits of renting is having access to newer equipment with the latest technology each rental period without having to pay the total upfront costs. It also allows you to test out new features before you decide to purchase. Ask about Rental – Purchase options for the best of both worlds! "Try before you Buy", but with a pre-signed rental purchase agreement, you won't lose all your rental payments, and a portion of what you have paid can be applied to the purchase price! This option may be the best of both worlds for you!

Do you have long-term storage capabilities?

Forklift ownership means being responsible for it around the clock and through all seasons. With a rental, you can decide to keep the forklifts only during the seasons or times you need them, and your supplier can arrange to pick up the forklifts to and from your site. Purchasing may be inconvenient if you do not have the space to store them through different seasons and downtimes.
Take advantage of flexible forklift purchasing options, breakdown services and safety training from Ri-Go Lift truck. Whether renting or buying, our lift trucks are reliable, safe, fuel-efficient, and equipped with the latest technologies and ergonomic designs to help operators be comfortable and productive on the job. To find out more about our forklift rental costs and ownership costs, Contact:
Steve Hensman – Rental Manager
rentals@rigolift.com or 416-213-7277 ext 242
or
Chris DiBerto, Sales Manager
cdiberto@rigolift.com or 416-213-7277 ext. 236