If you are looking for a small forklift that is designed to work in narrow aisles and tight spaces, then take a look at these 6 great options. Click on each link to learn more about their features and benefits.
If you want to learn more about all the small forklift models available and would like help choosing the right model for your needs and budget, contact us.
Top Small Forklift Models
1. Mariotti Mini AC Series – Mini 4 and Mini 6
The Mariotti Mini Series is the smallest compact rider forklift truck in the world. These forklifts are so small that they can even drive through a standard office doorway. They are only 43″ long without forks and are as narrow as 33.4″. They are so small and so light they can be used on mezzanines or in elevators! Here are some more of their technical specs:
Capacity for the Mini 4 (24″ Load Center): 750 lbs
Capacity for the Mini 6 (24″ Load Center): 1.100 lbs
Operating Voltage: 24V
Drive: Rear Wheel Drive
Mast Options with Lifting Heights up to 169″
Lowered Mast Height: 74.8″
Truck Weight with Battery: only 2,866 lbs
Aisle Width Right Angle Stack: 94.7″
If you are looking for a truly small counterbalanced forklift, then the Mariotti Mini series is a great option. Call RIGOLIFT for rental or purchase options. 416-213-7277 or sales@rigolift.com.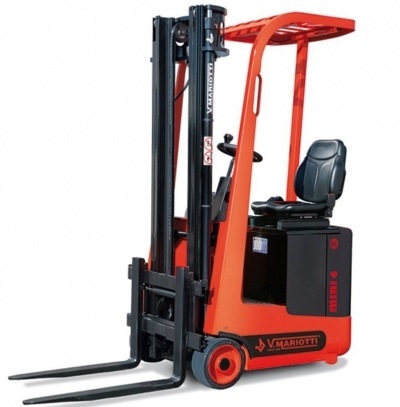 2. Mariotti MYCROS AC Series
All Mariotti small forklifts are specifically designed to operate in limited spaces while still giving you state-of-the-art technology, ergonomics, safety, reliability, and high productivity. The MYCROS AC Series is Mariotti's new range of three-wheel, sit-down, electric lift trucks.
The series has capacities ranging from 1,500 lbs to 2,300 lbs. The MYCROS FWD 13 is one of the great models in this series featuring the following:
Capacity (24″ Load Center): 2,300 lbs
Operating Voltage: 36V
Wheels: Front Wheel Drive
Mast Options with Lifting Heights up to 224″
Length without Forks: 58.8″
Narrow as 35.8″
Overhead Guard Height of 78.7″
Truck Weight with Battery: 5,622 lbs
Aisle Width Right Angle Stack: 110.3″
These small forklift models feature numerous technical enhancements while still remaining the most compact sit-down rider on the market.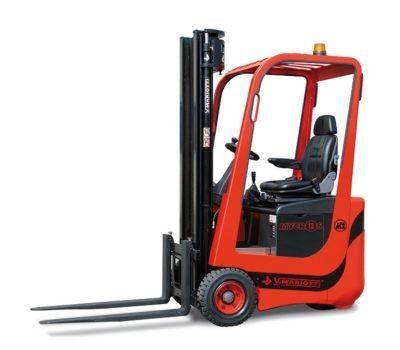 3. Mariotti MX Series
If you need a small forklift that has a higher capacity while still maintaining its compact size, take a look at Mariotti's MX series. The MX Series is the largest forklift in the Mariotti product line. They are equipped with a 48V power supply and a capacity of up to 3,000 lbs. The MX 16 in this series offers the following technical specs:
Capacity (24″ Load Center): 3,000 lbs
Operating Voltage: 48V
Wheels: Rear Wheel Drive
Mast Options with Lifting Heights up to 243"
Length without Forks: 63.6″
Narrow as 39.2″
Overhead Guard Height of 78.2"
Truck Weight with Battery: 6,724 lbs
Aisle Width Right Angle Stack: 115″
The MX 16 will also provide you with ample space to accommodate your operators in comfort despite its compact size.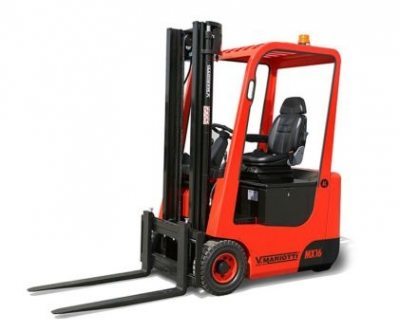 4. Mariotti ME Series
The Mariotti ME series is the most cost effective and popular series in Mariotti forklifts as it is compact, durable, and powerful but is also very cost effective. There are five models in total in this category, the 36 Volt ME 8/10/12 AC and the 24V ME 8C/10C with the capacities ranging from 1,764 lbs. to 2,646 lbs.
Its short wheelbase, compact construction with a minimum width of 31.5″ and optimal steering concept lets you operate even in the tightest spaces. It also features the following:
Overhead Guard Height 74.5″ in Compact models and 76″ in regular ME models
BlueSpot™ and TruckSpot™ (optional)
Optional Flashing Warning Lights
Available in 24V (compact) and 36V configuration
Side shift is a standard feature on this series
5. Komatsu FR18K Reach Truck
The Komatsu FR series is a stand-up electric, reach-type lift truck that excels at narrow aisle material handling. The FR50's advanced and intelligent AC drive and hydraulic motor will help you control critical functions to extend run times, eliminate motor brush checks or replacements, and deliver higher efficiency and longer life versus DC motors.
Capacity @ 24 in Load Center: up to 4,500 lbs
33″ – 50″ I.D. Base Leg options
5″ x 4″ Tandem Load Wheels
Small Radius Tiller Control
90 Degree Operator Side Stance
Anti-fatigue Arm, Knees and Back Padding
If you need to store and move a lot of stock in a small space, this is a great option. Call RIGOLIFT for rental or purchase options at 416-213-7277 or sales@rigolift.com.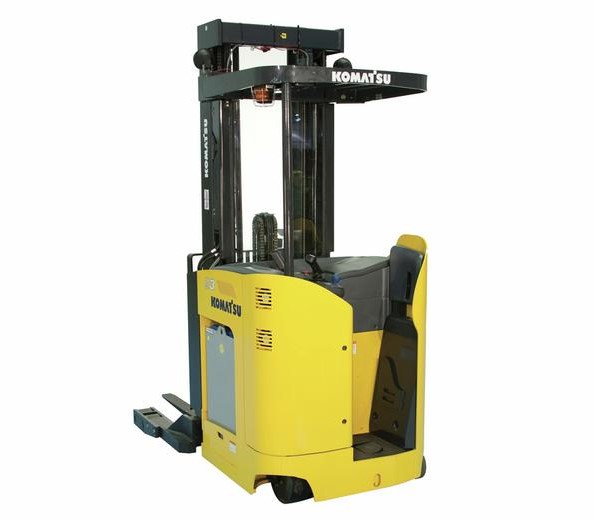 6. Hangcha X Series 3-wheel Lithium-ion Forklift
Hangcha's X Series is a very small 3-wheel electric lithium-ion powered forklift truck. It is also the lowest cost option of all choices above. It is an efficient forklift if you have light load weights and are operating in tight spaces. Because of its small turning radius and small, lightweight design, it's perfect for use in narrow operation applications including:
Working in elevators due to it's very light overall weight
Working in Loading Docks right into tight racking areas
Working in small rooms and crowded manufacturing areas
Inside Warehouses, Supermarkets, Retail Locations, and Workshops
Working on Mezzanines
Its lithium-ion battery and compact design ensure a low center of gravity and good stability while maintaining a very small overall size. This small forklift features:
Capacities of 1,000 to 1,700 lbs
HUGE, Spacious Interior for Added Comfort
Built-in 240V Charger for More Efficient Charging and space savings
No Maintenance, long warranty lithium battery
Solid Pneumatic Tires – for indoor or outdoor use
It is also designed with a wide-view mast to give your operators better visibility and comfort while increasing safety.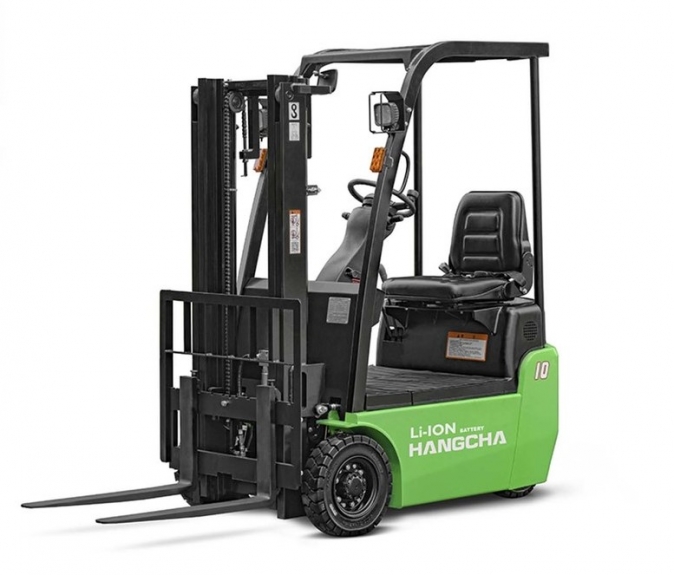 Looking for a Small Forklift? Contact Ri-Go.
If you are in the market for a small forklift, contact us. We have a wide selection of new and used forklifts and our knowledgeable staff can help you choose the perfect truck for your needs.
Since 1977, Ri-Go Lift Truck has been serving our customers in Ontario and Quebec with everything they need for material handling. We are committed to providing you with quality service and a high level of customer satisfaction.
We are your authorized dealer for the following top brands:
We are also proud to offer you the full lineup of Hangcha forklifts!

In addition to our authorized distributorships, we can also provide you with:
No matter what your material handling needs are, we can help. Contact us today to let us know how we can be of service.
What Our Customers Think…
"Over 20 years doing business with Ri-Go, in maintaining and renting us industrial power equipment. A big business with a real family way of treating the customers. They are experts in the industries they are involved in, and have been an important supplier for me for years. Moving forklifts, installing battery hoists, repairs, etc. If it's something they don't normally do, they make the effort to find us someone who can. Very very happy with everyone at Ri-Go."

– Paul Heggie