The purpose of any forklift is to carry heavy loads from one place to another. Conventional forklifts are primarily used indoors in warehouses or in flat outdoor environments such as Asphalt or Crushed Gravel driveways. But when your operations require you to handle load in unstable outdoor conditions such as on lawns or dirt, you'll find a need for something more robust, like a rough terrain forklift.
Rough terrain forklifts, sometimes called all-terrain or rugged terrain forklifts, are built to transfer loads on rocky, hill-like, or unstable ground conditions. Due to their size, tires, and weight capacity, they are used outdoors mostly in forestry, construction, agriculture, shipyards/ dockyards, lumberyards, auto-recyclers, or areas with soft and muddy grounds. These forklifts generally have larger tires with more aggressive treads and higher ground clearance. They come in both 2 wheel drive and 4 wheel drive configurations depending on the surfaces they will operate on. They can be both Straight mast or Telescopic Mast Configurations (Telehandlers).
What Class is a Rough Terrain Forklift?
Rough Terrain Forklifts are categorized as Class 7. Industrial truck manufacturers and parts suppliers in North America adhere to forklift classification codes under the Occupational Safety and Health Administration (OSHA) of the United States Department of Labor. Trucks in this class feature large tractor-style tires and are generally powered by diesel, Gasoline or LPG engines.
Types of Rough Terrain Forklift trucks
Ri-Go Lift truck Ltd. supplies rough terrain forklifts from Load Lifter, a North American manufacturer of innovative and high-quality forklifts made right here in Ontario. The types of all-terrain forklifts we carry from them include:
Straight mast forklifts: These lifts load vertically. They are usually designed with two large rear and two smaller front tires. The load capacity in similar standard forklifts ranges between 5,000lbs to 36,000 lbs.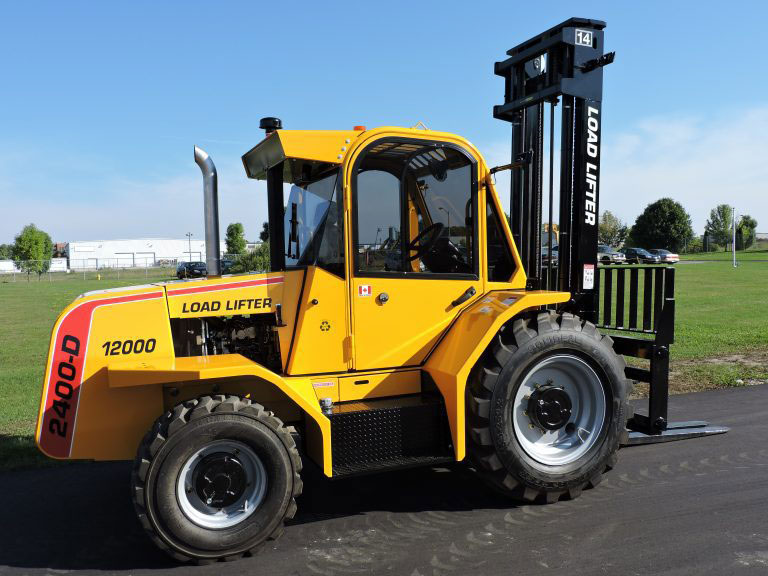 Telescopic, variable reach, or telehandler forklifts: These are equipped with a telescopic boom or telehandler that allows them to reach out at various distances to pick up load. Most of these forklifts are run by one joystick, which controls the hydraulics and boom functions. They have a weight capacity ranging between 5,500 lbs and 12,000 lbs. The telehandler can lift loads 18ft to 42ft in the air.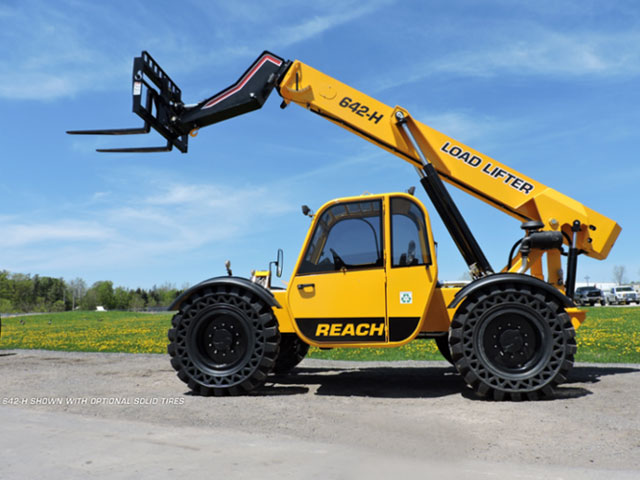 The Advantages
Now you know what a rough terrain forklift is and the options you can get; how can they help your business?
Better ground clearance: they're designed with sufficient space between the undercarriage (usually 12 inches or more) and ground compared to other forklifts (usually 4 inches). This helps them get through obstacles easier and to get stuck less often.
Improved traction: better ground clearance, off-road tires, 3 or 4-wheel drive train, and an articulating axle contribute to better traction, stability, and maneuverability even on soft and uneven surfaces.
Reduced maintenance costs: As rugged terrain forklifts are built to withstand the most challenging environments; their regular maintenance costs are considerably lower than conventional forklifts that try to operate in these environments.
Alongside these benefits, here are features that make Load Lifter forklifts attractive to operators:
360-degree operator visibility
Large, comfortable seating area with excellent Operator Visibility
Up to 42ft lift height
Excellent maneuverability and relatively tight turning radius
Convenient ergonomic controls
Quieter operation
Fast, responsive, hydraulic controls
Construction, mining, or agriculture, no matter your industry, we provide rough terrain forklifts fit for the most challenging environments. We can also equip these trucks with attachments such as fork extensions, side shifters, fork positioners and more to make the job that much easier and faster. To learn more about our Load Lifter Rough Terrain forklifts, Contact:
Chris DiBerto, Sales Manager
cdiberto@rigolift.com
416-213-7277 ext. 236