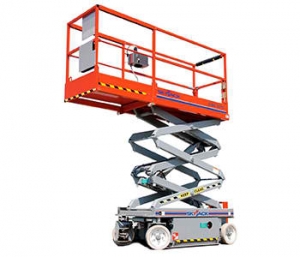 By their very nature, warehouses represent large spaces. This is one of the reasons they're so effective for storing all kinds of inventory. However, this kind of space can also become a challenge if it means your workers have trouble getting around it. Often this means moving vertically. There are a number of ways to do this, but a scissor lift may be the best option, especially if it's made by Skyjack.
Let's take a look at a couple other ways your workers could reach higher heights in your warehouse. The most obvious choice would be a ladder. You really can't get too far up a ladder, though, without risking personal safety. Even if you do get to the required height, you're also handicapped by what you can bring down with you.
Scaffolding is another option some might consider. This makes it much safer to get as high as you need. It's also possible to allow numerous workers on it at once in case the job requires more than one of them. Bringing down multiple objects shouldn't be much of a problem either. Unfortunately, this is hardly a convenient method. Not only is it time-consuming to set up a scaffold, but you have to trust that it's done correctly every time or people could get seriously injured.
Neither of these options makes sense when you consider that you could simply drive out a Skyjack scissor lift and allow your employee to safely reach any height in your warehouse. They come in sizes that allow multiple people on the platform too.
Used Skyjack scissor lifts give you all the above benefits, but at a much lower price. Fortunately, Ri-Go always has used Skyjack scissor lifts for sale. Call 1-800-263-7580 today to learn how you can have one of your own. We also sell a number of other Skyjack products for sale too.
Get in Touch