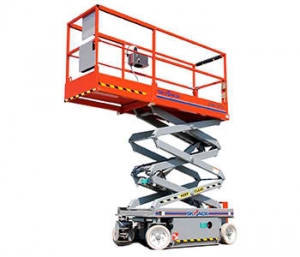 Whether you're attempting to hang new signage, access top-shelf storage, or just change a lightbulb in a high-mount fixture, scissor lifts provide invaluable benefits. However, they can be costly to purchase new. A used scissor lift for your Toronto business can offer significant savings and benefits.
At Ri-Go Lift, we carry a full inventory of both new and used scissor lifts from top names in the industry, including Skyjack. Our selection includes vertical mast lift trucks, telehandler lift trucks, rough terrain scissor lifts and DC electric scissor lifts to name just a few.
When you buy a used scissor lift for your Ontario business from Ri-Go Lift, you are purchasing a completely refurbished unit that has been professionally inspected and maintained. It's as close to "new" as you can get while still avoiding the price tag involved with new heavy equipment.
In addition to Toronto's widest range of used scissor lifts, we also offer professional operator training. Under Canadian law, operators must be trained and certified. Our expert instructors can provide training for single operators or entire staffs if necessary.
We also offer a wide range of other material handling equipment, including pre-owned and new forklifts, manual and power pallet jacks, and industrial shelving and pallet racking systems customized to meet your specific needs.
If you're in need of a used scissor lift in the Toronto area, contact Ri-Go Lift today by calling us at 800-263-7580 to learn more about our inventory and training programs.
Get in Touch