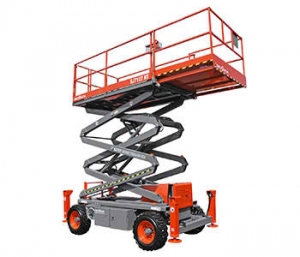 It's difficult to imagine a more versatile piece of material handling equipment than the humble scissor lift. They're used for an incredible range of purposes across all industries. In big box stores, they can be used to change ceiling-hung signage, maintain lighting and more. In warehousing situations, they can be used to access high shelves easily, where a forklift would be inappropriate. There are countless other uses for these machines, as well. However, they can be costly. That's where a used scissor lift for sale can help.
At Ri-Go Lift, we provide a full inventory of pre-owned material handling equipment, including used scissor lift models from companies like Skyjack. Pricing for our used equipment is a fraction of what you would pay for a brand new model, and you get all the benefits available with new equipment as well. Our thorough service and inspection process ensures that each used scissor lift is completely inspected, any repairs are made, and the equipment is fully refurbished and as close to new as possible.
In addition to providing essential savings on vital equipment, we can also offer professional training programs for scissor lift and forklift operators. Ri-Go Lift also carries a full line of forklifts, including natural gas, diesel and electric models, as well as manual and electric pallet jacks. We can also custom create a pallet racking system for your business.
If you're in need of a used scissor lift for sale, professional training or any other type of material handling equipment, get in touch with Ri-Go Lift today by calling us at 800-263-7580.
Get in Touch