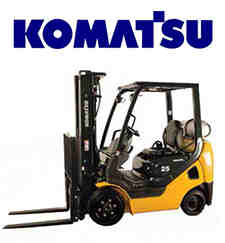 Whether you're running a shipping service, a warehouse, a carpet and flooring company or something else, having the right equipment is essential. Heavy loads, difficult to reach racking, cumbersome burdens – all of these pose problems, challenges and risks to your employees. A used Komatsu forklift for sale can be the answer to your needs.
Komatsu is one of the most respected names in the material handling equipment industry, and buying a used Komatsu forklift gives you significant capabilities without the price you'd have to pay if purchasing new.
At Ri-Go Lift, we offer the highest quality new and used forklifts in the GTA, including models from Komatsu. Our used models are thoroughly inspected and refurbished prior to sale, ensuring that you get a like-new model without the high price. We can do more than just supply your business with a used Komatsu forklift, though. Ri-Go Lift is a certified forklift training provider, and we can offer professional training solutions to fit any needs, from a single operator to entire teams.
We have been serving Ontario since 1976 and during that time, we've built a reputation as the leader in customer value and satisfaction. Contact us today by calling 800-263-7580 to discuss your needs. Whether you're interested in buying a forklift, renting one, or securing training for your staff, we have the solution for you.
Get in Touch