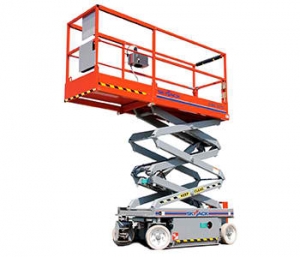 Scissor lifts are invaluable tools for warehouses, big box stores and plenty of other businesses. They can be used for a wide range of needs, from changing signage and fluorescent lights to maintaining fixtures and features. However, they're costly, particularly if you're buying new. At Ri-Go Lift, we can offer you a used electric scissor lift for sale that delivers all the advantages you want with none of the drawbacks.
Ri-Go Lift specializes in offering the highest quality scissor lifts, forklifts and other heavy equipment. We're also proud to offer training, parts and rentals to our clients throughout the GTA. We are a 100% Canadian owned and operated material handling equipment dealer.
If you're in the market for a used electric scissor lift, we urge you to consider the following items prior to making a purchase decision:
Price – Yes, price is important, and while it's not the sole criteria necessary to inform your decision, you should shop around to discover the best deal.
Condition – Buying a used electric scissor lift shouldn't make you feel like you're getting something secondhand. Our high-quality lifts are fully refurbished and in "like new" condition.
Warranty – Warranty protection provides essential peace of mind and savings over time.
Availability of Parts and Service – Ensure that the company offering the used electric scissor lift for sale is able to provide parts and service over the long term.
Ri-Go Lift offers the widest range of new and used material handling equipment. Contact us today at 800-263-7580 today to learn more.
Get in Touch