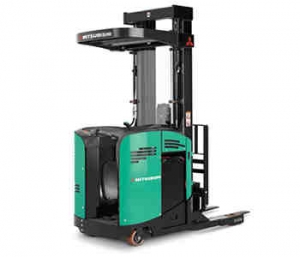 There's no arguing that just about every warehouse needs at least one forklift for it to be considered optimal. Without forklifts, warehouse staff is far less productive and even in danger. While it's only a matter of time before something goes wrong, chances are it's not going especially right in the meantime.
However, even the best forklift is going to have some shortcomings. It will require fuel, for example, and, over time, you'll need to see to its maintenance. For some warehouses, though, a more problematic issue is that their aisles are too thin for their forklift(s). This renders it useless and necessitates a workaround to draw any sort of benefit from this investment.
Fortunately, it doesn't have to be so difficult, thanks to narrow aisle forklifts. As the name makes clear, the distinguishing characteristic of this type of machine is its minimal width. While each model will differ, a narrow aisle forklift is going to be thinner than its full-sized colleagues.
The main advantage is for those companies with warehouses that have already been built and structured. Redoing the shelving and/or racks to accommodate a large forklift could is unnecessary now that you can just purchase a thinner machine. You'll end up saving time and money.
However, for those companies that haven't yet organized their warehouse, this type of forklift means you stand to gain more shelving or rack space because the aisles won't be taking up as much space. Again, this could equal big savings when you consider that means paying for less warehouse, yet being able to stock more inventory.
Whether you want to buy one or simply rent a narrow aisle forklift, Ri-Go Lift Truck is the company to speak to. Call them today at 1-800-263-7580 and begin benefiting from their 30 years in the business. They also have used forklifts for sale.
Get in Touch