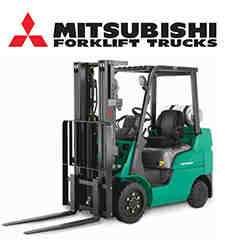 There aren't many companies out there that can compare to Mitsubishi when it comes to shear breadth of products. Though it began as a simple shipping firm, the Japanese company has grown substantially since then. In the more than 140 years it's been in operation, Mitsubishi has become a name in the steel, chemicals, aviation, oil and gas, automobile and financial services industries, amongst many others. If you're in the market for a forklift, then, you should be comfortable going with a Mitsubishi model.
For one thing, simply put, Mitsubishi hasn't had this kind of success without knowing how to create a product that is of the highest quality. This means not only will it perform well, but it will also do so for years to come.
That's what you want to hear when you're investing in a forklift. Such a vehicle is necessary to optimize your company's warehouse needs, but only if you purchase the best kind. This is where Mitsubishi comes in.
The company has forklifts in every class, I through V. While they have internal combustion models you may like, Mitsubishi also makes electric forklifts too. Of course, given that they span five classes, you'll also have an easy time finding a vehicle that makes the most sense for any size constraints you may have.
While these benefits may sound great, at the end of the day, you have to consider your budget. That's why the final ingredient in securing the ideal model is finding the best possible Mitsubishi forklift dealer. Fortunately, Ri-Go is just a call away. We have the five classes mentioned above, the two types of engines and a variety of sizes to choose from.
Give us a call at 1-800-263-7580 and find out why so many other companies have made us their preferred Mitsubishi dealer in Toronto. We have both new and used Mitsubishi forklifts available.
Get in Touch