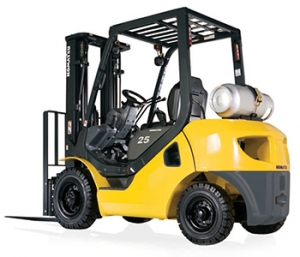 There can be little doubt that adding a forklift to your company's operations will reap huge rewards in a number of different areas. However, it's also easy to argue that without the right forklift, you're spending more than you need to on regular operations or at least falling short on results. Fortunately, most companies will be very happy with the Komatsu FG25.
The Komatsu FG25 forklift is capable of carrying around 5,500 kg. Obviously, that's far more weight than any one employee could ever hope to handle. Yet, all you need is one employee to drive this forklift around with all that weight and, often, that same employee is all you'll need to load the vehicle too.
Keeping employees from coming close to that type of load is bound to equal better safety. You're less likely to hear about employees have that much weight come down on them and the risk of straining or otherwise injuring themselves trying to lift too much at once will be reduced too.
Despite all that weight, the FG25 can still move around at 18.5 km/hour. Without the load, this vehicle gets another half-kilometer in speed.
Once the FG25 arrives at its destination, the fork can raise three meters into the air. Again, the upshot is that employees aren't being put at risk by trying to transfer so much weight vertically. This also makes it safer and simpler to retrieve products from that height as well.
At just 2,585 mm in length and 1,150 mm wide, this forklift isn't taking up a lot of space either. With its fork lowered, it's only 2,070 mm tall. Just about any warehouse should be able to accommodate and, thus, benefit from this vehicle's services.
To begin taking advantage of an FG25 for yourself, give Ri-Go a call today at 1-800-263-7580. We also have Skyjack vehicles for sale too.
Get in Touch