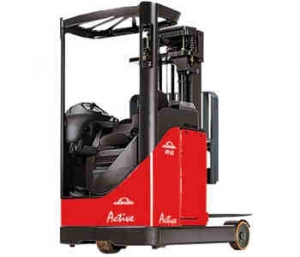 While forklifts might be the first thing you think of when it comes to common material handling equipment, they're often too large for some business environments. When you have to get between pallet racking aisles, a reach truck is the better option. These machines marry the capabilities of forklifts with the footprint of a pallet jack, ensuring that even tight confines are no problem. At Ri-Go Lift, we're proud to offer our clients the highest quality options when it comes to a used reach truck for sale.
Why a Lift Truck?
Lift trucks are compact yet powerful, ensuring they can easily fit where forklifts can't, while providing significantly better capabilities than even powered pallet jacks. They are ideal for warehouse use, and can work with all types of pallet racking systems.
Why Used?
Why should you consider a used reach truck? Simply put, there's no better way to get the capabilities of this equipment without spending a lot of money. New models can cost tens of thousands of dollars. At Ri-Go Lift, we can provide you with a used reach truck for sale for significantly less.
All of our pre-owned inventory undergoes a rigorous inspection and refurbishment process, ensuring that they are as close to new as possible. We back all of our inventory with our iron-clad customer satisfaction guarantee, as well.
Contact Ri-Go Lift today by calling us at 800-263-7580 to discuss your needs and to learn more about our pre-owned inventory. We can even provide training for reach truck operators if necessary.
Get in Touch