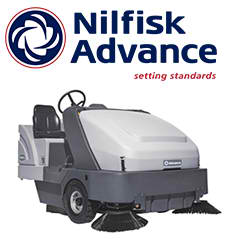 Does your company own large spaces that are essential to business? It could be a warehouse or perhaps a showroom. If it's some type of department store, you definitely have a lot of property that is important to your company's bottom line.
No matter the size, all company space must be kept clean. Otherwise, you're inviting pests, accidents or both. Not to mention you won't set the right impression with employees, partners and clients alike.
The problem is that these large spaces demand a proportionally large cleaning solution. You certainly can't pay people to spend all day mopping and sweeping your warehouse, right?
Fortunately, there are products from Nilfisk Advance to assit you with this task. Nilfisk products include:
Floor Scrubbers
Floor Sweepers
Combination Floor Sweepers and Scrubbers
The advantages of having these types of machines should be obvious. Nilfisk Advance, a Canada-based company, has been making this type of equipment for decades. They can trace their history all the way back to 1910, where their roots date back to the Minnesotan grain milling industry. However, in 1963, they opened a manufacturing plant right here in Canada and ever since, they've been the name to look for in cleaning machines.
So whether you have a warehouse you'd like to keep safe or a large store you want to maintain in a professional manner, don't forget how easy Nilfisk can make it. They sell scrubbers, sweepers, combo machines and much more. For a particular model at the lowest price you'll find, call Gi-Ro lift at 1-800-263-7580. We also stock other machinery like pallet trucks for sale.
Get in Touch