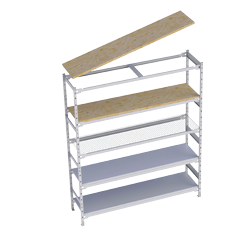 Many companies in Toronto face a specific problem. Due to demand, they have a large inventory on their premises. This is a good thing, of course. Unfortunately, they need to effectively store this inventory, which is where the problem arises. Ineffectively storing inventory is a guaranteed way for a company to end up with unnecessary overhead, ultimately turning a good thing into a burden.
This is one of the main reasons wire shelving in Canada is growing in popularity amongst businesses with this very problem. First and foremost, it offers an effective way to stack all kinds of inventory nice and high. By doing so, you get more from every square foot of your warehouse.
That's certainly a benefit, but your storage needs could very well change in the future. For many companies, this change comes fast. Not to worry if you're using wire shelving. Toronto companies with this type of storage find it easy to reconfigure their shelving so storage once again becomes simple and custom-made.
Wire shelving is also extremely durable. Unlike wooden applications, you don't have to worry about bumps and scrapes hurting the actual integrity of your storage structure. Wood is also vulnerable to changes in temperature, meaning it can shrink or expand throughout the year. Obviously, this will not be an issue with wire shelving.
Not only can wire shelving take a beating from your warehouse's operations, it needs virtually no maintenance. You'll benefit from this storage for years on end without ever having to spend company time or money on repairing or maintaining it.
For all these reasons, wire shelving might be the most affordable storage option on the market. It also doesn't hurt that the initial investment is miniscule as well.
Call Ri-Go today at 1-800-263-7580 for even greater benefits from wire shelving. We can also offer a Mitsubishi forklift to help with your inventory too.
Get in Touch