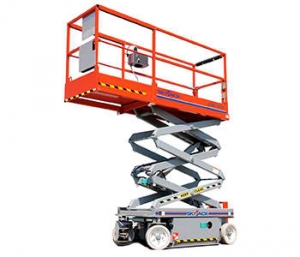 Companies in Ontario that depend on warehouses or other large buildings should consider what Skyjack products bring to the table. Since 1986, this company has been making superior aerial platforms. If you have business needs that demand your employees reach tall heights, use a product from Skyjack. Ontario companies have for decades and for good reason.
One of their more innovative products is the Skyjack electric scissor lift. Many companies are looking for electric solutions to their traditional problems. It helps their company profile by lowering their carbon footprint. Of course, given the cost of gas, it also helps them decrease their overhead as well, while making for a safer work environment by eliminating the presence of combustible fluids.
That's far from the only benefit these vehicles provide though. Obviously, they also help elevate your workers. This makes it extremely easy for them to handle necessary repairs or bring down inventory and/or tools that are stored high above. You simply can't hope to do this—not safely anyway—by going with ladders, scaffolding, etc.
Furthermore, despite their effectiveness, you can choose a model from Skyjack that won't require a lot of space. In terms of length and width, many aren't much larger than a forklift. That means you can easily negotiation the corridors of your warehouse swiftly and safely. In fact, you can probably deploy an electric scissor lift just as fast as an employee could run out with a ladder.
All these lifts need is one worker to operate them too. That's because all the controls are located within the platform. A worker can drive it out to the right spot, elevate themselves, do what they need to and then drop the platform back down.
Give us a call today at 1-800-263-7580 and let Ri-Go explain how affordable these machines can be. We also have Skyjack lifts for rent too.
Get in Touch