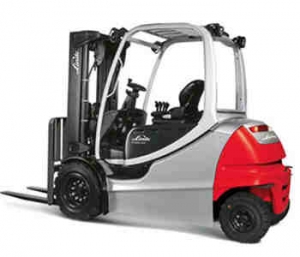 Few companies can claim a pedigree like Linde. Started in 1904, Linde has never stopped growing, in terms of the markets they've entered, the businesses they've acquired and the products they offer. A Linde electric forklift may be one of the best examples of this as it combines the current demand for energy efficiency with the need for high-quality machinery. Typical of Linde, they've created an ideal solution.
Any forklift by Linde is going to be a good purchase, even if it's used. Simply put, Linde would not have survived this long if they weren't excellent at building products that last.
There are four different options to choose from, so don't think that wanting to lower your carbon footprint means you'll have to settle for a vehicle that doesn't match your unique needs. They range from the 346 Series that can hold from between 3,500 to 4,000 pounds up to the RX60 Series, which can hold between 5,000 and 10,000 pounds.
No matter which one you go with, being a Linde, you'll be assured of certain benefits. For one thing, all that power will come in the most convenient frame possible, making it easy for the electric forklift to weave around your warehouse as necessary.
Being a Linde model also means it will be able to put up with all kinds of wear and tear from your warehouse, loading dock, etc. While we at Ri-Go can handle repair and maintenance, you shouldn't expect that to be necessary any time soon when you purchase a Linde forklift.
You'll save a lot of money by purchasing an electric forklift, especially if it carries the Linde name. However, you stand to save even more if you purchase yours from Ri-Go. Call us today at 1-800-263-7580 and let us know which one you're thinking about. We also have used Linde forklifts for sale too.
Get in Touch