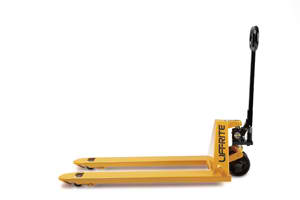 Whether you need a New or Used Pallet Truck, RI-GO has the right Electric Pallet Truck that will definitely fit your needs. Talk to our professional sales staff to help spec you the right pallet truck with the right options from the industries best manufacturers.
If you are new to the pallet truck world, then ask RI-GO's staff about the variety of movers and tractors to choose from for your warehouse or jobsite. These vehicles break down into categories like:
Walkies: These are devices your employees walk with and provide support for light jobs. Designed for great maneuverability, walkies give operators the ability to handle extra loads when picking orders and lifting or towing them throughout your warehouse.
Walk-Behinds: These have a small head-length that helps you move through narrow aisles and crowded locations. These are perfect for staging crates in different areas as you pick orders.
Walk-and-rides: These movers allow your employee to find the best method to move pallets around your space. Typically, users walk alongside while loading and picking orders and then move to a riding position when moving the full order. Some models have variable rails and guards to make it easier to get off and on the mover.
Tow tractors: These riding vehicles are used to transport a set of pallets around a warehouse on a cart or train. Most feature variable speeds and come with a variety of turning radii for the best controller handling. Models also feature additional equipment, the most popular of which is a tow-hitch with an automatic coupler.
Head over to RI-GO for all your Pallet Truck and Tow Tractor needs in Toronto. We have been serving the Greater Toronto Area since 1976. RI-GO Lift Truck can answer your questions and tailor an order specific to your needs. Call toll free at 1-800-263-7580.
Get in Touch