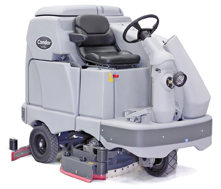 A clean work space makes your whole operation safer and more productive. Floor Scrubbers in Toronto has become a vital part of any warehouse, plant, or factory operation.
Come in to RI-GO Lift Truck and learn about the different kinds of floor scrubbers and packages available, and find the right mix to fit your needs.
RI-GO can build you a floor-care and floor scrubbing package specifically suited to your needs based on key factors like:
The type of surface at your jobsite;
The size and amount of dirt generated each day or week;
How big your cleaning staff is;
What level of clean you need for your operations; and
If you need to sweep or scrub.
There are a few major choices to make once you get an idea of the equipment that you'll need in order to fine-tune and finalize the selection.
The industry best practice for deciding the size of your equipment is the three-hour rule. Most jobs are at optimum efficiency when they get the smallest-sized piece of equipment that still allows them to complete their cleaning in less than three hours.
After that you'll want to decide between riding or sitting floor scrubbers based on things like the size of your jobsite and the visibility your operator needs.
Need to purchase Floor Scrubbers in Toronto, Canada? RI-GO has the right professionals to walk you through all the options available from Nilfisk Advance. They have riding and walking models that are big enough or small enough to handle your site at the best cost and performance. Call them toll free at 1-800-263-7580.
Get in Touch